Homecoming 2019 Is Coming up
Fall is just around the corner, and we all know what that means, Homecoming week! Hellgate is known for their spirit. After all, the Knights beat Sentinel in the first annual Gertie the G.O.A.T. spirit competition. Be sure to go all-out for the 2019 Spirit Week coming up Sept. 16 through 20, it will be a ton of fun and a great way to let loose. 
Monday the 16th is the start of Spirit Week, and to start it off with a "bang", go all out for Color Day. Freshman wear pink, sophomores wear purple, juniors wear green, seniors wear orange, and teachers wear red. Color Day is a classic Spirit Week theme, be sure to wear your class color, not another class' color theme!
Tuesday the 17th is the well known blast from the past, Decades Day. Get out clothes from the past and even talk to parents and grandparents about the style in that decade. Freshman go all the way back to the '50s. Poodle skirts, bright red lipstick, and anything from the movie "Grease" are all great '50s attire. Sophomores go to the '60s, flower power is strong in this decade and Sophomores need to help Hellgate feel the hippy love. Juniors better pull out their bell bottoms, as they're headed to the '60s. Finally, Seniors have the well known '80s. Leg warmers, headbands, jeans jackets, and some sweet shades. Be sure to get groovy for Decades Day. 
Wednesday the 18th is a new spirit day for Hellgate. It's a time to get sporty and show off your jerseys. Wear anything from your personal sports jerseys to famous football, basketball, or even volleyball jerseys. Not only is Wednesday Jersey Day, but it is also Bonfire Night at the River Bowl. Be sure to watch the tug of war competition and even sign up for your own team. Requirements include having four boys and four girls on your team and that you show up Wednesday night to fight for the title "Hellgate 2019 Tug of War Champion". The Hellgate Band will also perform, and of course, there will be a bonfire. Be sure to go to the bonfire and don't forget to wear a sports jersey on Wednesday! 
Thursday is a time to get together with friends and come up with a creative duo or group outfit. This can range anywhere from the Power Puff Girls to different kinds of Skittles. Be sure to start coordinating with your friends to find the perfect group or duo outfit. 
Friday is one of the most exciting days, according to Sophomore Laura Armstrong. She says that, "I am excited for Red and Gold Day because gold is sparkly and fun."  This is the day to show off your true Knights spirit. Hellgate's Homecoming football game against Flathead is a game you don't want to miss. Kickoff will be at 6:00 and that's only the start of Friday night's fun! After the Homecoming game, the Homecoming week school dance starts at 9:00 and goes until 11:00. Tickets for the dance cost $8 during the school week, and $10 at the door. The dance is informal and the theme is Red and Gold. It will take place in Hellgate's lower gym. Since this is the wrap up to Spirit Week, let loose and have fun at the dance and football game. The 2019 Spirit Week should be one of the best ever! 
About the Writer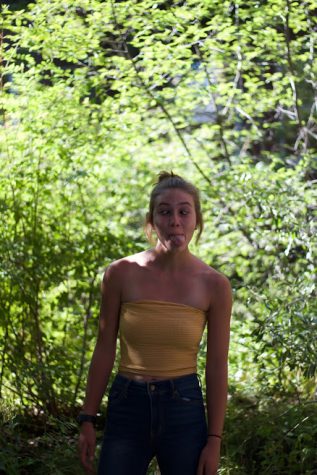 Maggie Vann, Reporter
Hi, I'm Maggie Vann, a junior at Hellgate high school. This is my second year in Lance, and I've enjoyed writing since before I was in middle school....