Hellgate Knights Dominating the Pitch
The Hellgate Knights soccer teams took on the Glacier Wolfpack on Aug. 31, Butte Bulldogs on Sept. 5, and Flathead Braves on Sept. 7.  
Boys varsity ended with a score of 2-2 against the Wolfpack, and the two goals for Hellgate were scored by Reggie Duce and Dane Becker. The boys varsity fought hard the whole game. The Knights were up 2-1 in the 78th minute, when Glacier scored off of a free kick from just outside the box. 
The girls varsity tied 1-1 against the Wolfpack in a good game but the girls couldn't put a second shot in the back of the net. Goal from Kennedy Wells. There were many shots from the Knights but they couldn't finish any into the goal, overall a well played game. 
Girls JV Knights faced Glacier and lost 3-1 in a hard fought game, and Glacier had a few good goals. Josie Brown scored for the Knights. Glacier was just a little more physical which gave the Knights a disadvantage, but no matter what, they put up a good fight.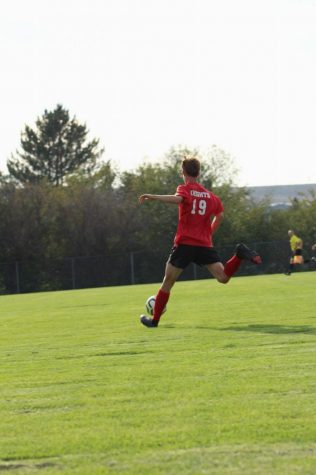 The Hellgate boys JV team showed the home crowd a show, beating the Wolfpack JV team with a score of 3-1. The three Knights who scored were Oliver Beck, Conor McMahon and Ray O'Connell. Glacier's style of soccer is to over shift and clump into the middle so Hellgate was able to spread out using the width of the field, catching them off guard playing balls into the middle of the field and the Knights were able to put them away. Glacier scored a header off a free kick since they were able to put a lot of people on the backside to have better chances to score.   
Later that week, the Hellgate Knights also took on Butte on Thursday night, ending with a score of 13-0. It was a pretty easy game once the Knights found their rhythm. Girls varsity  held a strong back line in the second half of their game on Thursday against Butte. The final was 6-0. Goals from Kennedy Wells with 2, Clara Tallent with 2, Elaina Pierce and Natalie Nedrud. "We are definitely looking like a strong technical team this year," said Lucia Baker. 
Boys JV beat Butte 9-0 in an easy game where they were able to dominate the possession. Butte played more direct soccer, playing balls through, but they were able to keep a staggered back line. This was key for the boys or else they would have been  caught off guard a lot and it could have been a much closer game. "We have really strong chemistry and a high level of communication so we were able to succeed and pass the ball around them, "said Aidan Anderson, a JV player.   
Girls JV absolutely dominated with a final score of 8-0. They played very good controlled soccer and they were able to do that because they are technically skilled as a team as well as all of the other Hellgate teams.  
For boys JV there will not be a ton of competition. "Sentinel will definitely be our most difficult rival especially since we know a lot of our opponents," said Aidan Anderson on Tuesday. Most boys JV players believe they will go undefeated this season.
Overall a good week of soccer for the Hellgate Knights with all teams looking strong, especially Boys JV.