In the Studio: Xedrin
     Over the past year or so, Julian Graef, under the alias of Xedrin, has released 14 tracks and gained more than 500 followers on Soundcloud. A Hellgate student and Missoula native, the musician has become notorious for his flows, and has inspired more than a few teens around town to start putting out music as well. Recently, Xedrin made the move to Spotify and Apple Music, legitimizing himself in the process. Amassing around 130 thousand listens on Soundcloud, and "around 200 thousand overall," he isn't lying when he says, "I got everybody talkin' now".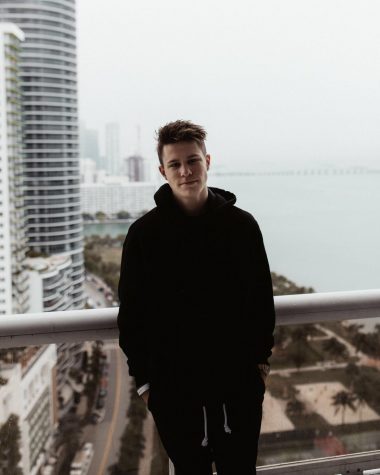 "A short term goal for me is to rebuild my following on other platforms. People say 'Oh, your Soundcloud plays are fake because you don't have many plays on Spotify,' but you have to rebuild that following when you make the switch." Regardless of the hate that he gets, Xedrin is still enjoying being a part of the music industry: "It's super cool to be able to tell people to 'Check me out on Spotify' instead of 'Check me out on Soundcloud.'"
     Throughout his discography, Xedrin talks about how he's been making music since he was a kid, and how people are just now discovering him. "I really started at like 8. It's a super cliche story, but my brother was a rapper when he was in high school, and I was around that all the time. I started writing poetry, and then reciting it in the form of raps, and then I really started recording and putting stuff out in the middle of freshman year," Graef said.
     Since his arrival on the rap scene, Graef has had his fair share of drama. In July, he posted a screen recording on his Snapchat story of an Instagram account that was leaking his music. The account in the recording had only one follower, and the leak had been posted less than a minute before the recording was taken. Many people noticed these details, and rumors spread that the account leaking his music was Xedrin himself. "No, I didn't run it. I have some ideas on who it was, but I don't know and there's really no way to know. The thing is, if (the account) was leaking whole songs, then I would have a real problem because it's basically taking money out of the artist's pockets, but they were leaking like 10 or 15 second snippets of songs that I had previously shared on my Snapchat and Instagram." He went on to speculate on who it could have been, discussing an inner circle of friends who he sends unreleased music. "I feel like it was one of them, whether they were sending it to someone else or playing it for the wrong person, but the thing is it's not that big of a deal to me."
     Earlier in his career, Graef frequently considered quitting music, but his recent brush with death totally changed his perspective on life and his interests. "I guess I was kind of losing interest (in music), the trip to L.A. really helped, but three weeks before that I straight up fell into a coma, and I was unconscious for almost fifty hours." When asked what happened, the rapper responded, "We still don't know, honestly. I went to sleep on a Monday night and woke up on a Wednesday night." Graef said "being that close to death" was a serious wake up call for him and made him decide to continue music because "life can get taken away at any moment."
     Xedrin usually finds inspiration in things that are happening in his life. "If I have a beat laid out, then I'll usually write lyrics when something happens in my life. It could be positive or negative, like I have a ton of sad songs, only a few released but I have so many sad songs, so whenever something bad happens music is my outlet." He usually prefers having a beat first because if he writes lyrics he has to "make or find a beat that fits with the lyrics."
     One of Xedrin's clear influences is late rapper XXXTENTACION. Both rappers sample Shiloh Dynasty heavily and have a similar "emo rap" sound. "I have three (musical influences), and all for different reasons. First, Token. He just really influences my sound, and I got to meet him and rap with him when he was in Missoula, which was one of the coolest moments of my life. (He's) kind of controversial, but XXXTENTACION because of his story and how he pushed through all that and still came out on top, which really inspires me. Lastly, Billie Eilish just because she's young. She blew up when she was 15, which is how old I am, and seeing someone that young make it that big was huge for me." 
     He went on to talk more about how Token has influenced him: "He has a super fast machine gun flow…and I've kind of adapted that in some of my own songs." Graef believes that as a new rapper, "it can be hard to start out and be completely original," which is probably why other artists' influences can be heard in his music so frequently.
     As a musician, Graef really values the people around him. He believes that all new artists should "find a homebase, get a close group of friends…and don't give up. Even if you don't make it big do it while you enjoy it. For him, that close group of friends is The Parliament. The Parliament is "an art collaborative created by artists for artists." In Graef's words, "We all have special skills, we individually create, and collaborate together. We are a family, we push each other, support each other, and last but not least, represent each other. "There are 17 people in The Parliament, spread out between Missoula, L.A., San Francisco, and Brazil.
     Graef's favorite experience so far has been "having people yelling my lyrics with me. I was playing this super aggressive song and trying not to cry with all these people jumping yelling my lyrics, and that was just such a surreal experience for me. That or having my song with Kasper the Saint play in a Zumiez. That was pretty tight."
     The musician believes that his future in music depends a lot on what he does after high school. Graef has already worked with pretty high value artists and managed to record in Atlantic Records studios in L.A. through a fellow musician who goes by the name Kasper the Saint. "If I can afford it, I'm trying to get out to L.A. after I graduate…so if I can support myself and get a job and have a place down there then I feel like that will determine my music career."
     "I understand that so many people try to do music…and only three percent make it, and I understand that it's hard and it's a push…but recently, since I've been getting more attention, I've just pushed and been taking risks, and I see it as more of a career opportunity." He also said that even though the money he's making isn't much, it "seems like more of a career option. If I look ten years down the line, and the only job I have is music…then that'd be fine."