World Language Classes – Recommended But Not Required
Madeline Swanberg, News Editor
February 7, 2019
Hang on for a minute...we're trying to find some more stories you might like.
As a Hellgate student, chances are that you or someone you know has been in a foreign language class over their years at school. After all, almost a third of Hellgate's population (352 students!) is currently enrolled in some foreign language class: Spanish, Arabic, French, Mandarin, and Latin are the five offered.
However, foreign language credits are not a graduation requirement at Hellgate, even though they are recommended or required for many colleges and universities, including the University of Montana and Montana State. When asked why students don't have to take a world language class, head counselor at Hellgate Christine Kolczak says, "The graduation requirements are set at a state level," and these requirements do not include a world language credit.
Ms. Kolczak does not foresee these requirements changing anytime in the near future, but she recognizes why so many students take a language class anyway.
"World Language is a great opportunity for students to gain insights into other cultures, prepare for college, and open doors to travel and employment," says the counselor.
Recognizing that "every student at Hellgate has a different plan for their future," Kolczak says that the counselors do their best to help students reach their individual goals, which may or may not mean taking a language class.
Hellgate Spanish teacher Chandra Brown also acknowledges that she's not sure if "policies should always guide us in our choice to learn," but thinks that "learning another language is ESSENTIAL."
"It's important to encourage young people to explore languages, which in turn encourages our exploration of culture. Only by learning about other people – other cultures and their languages – can we become compassionate, empathetic, curious members of global society," says Profe Brown.
Wren Cilimburg (12) is in IB Spanish 5, and says that after four years of a world language she has "learned a lot about other cultures." and thinks that "learning a language provides you with good skills that can be utilized in other areas of your life." When asked if she plans to continue learning Spanish in the future, Cilimburg says she "definitely would be interested in minoring in it."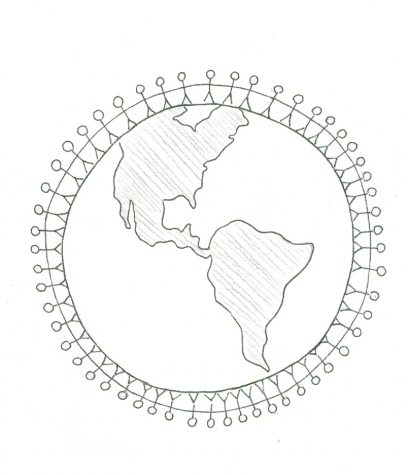 Even if students don't plan on attending college or secondary education, Hellgate's extensive language program and encouragement from counselors and teachers makes it easy for them to learn a second language. Although it may not be a requirement for graduating from Hellgate or other Montana schools, learning a language may be beneficial for getting into college as well as seeking other job opportunities in the future.