2018 Fantasy Football Awards
Jason Upton, Sports Editor
January 8, 2019
The 2018 fantasy football season gave us surprises, entertainment, shock, and heartbreak. There were proven studs, huge breakouts, season-ruining injuries, and key waiver pickups. Here are the 2018 fantasy season awards.
MVP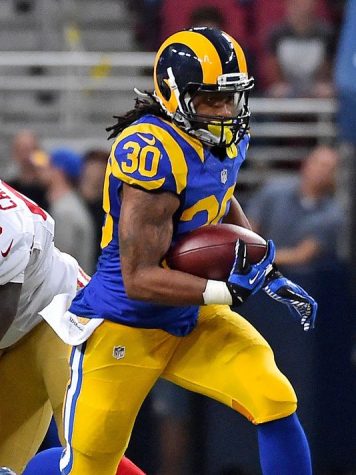 The granddaddy of all awards, most valuable player turned out to be harder than it was looking to be halfway through the season. While Todd Gurley gave owners the best 14 weeks of their lives, it was Christian McCaffrey who came up clutch during the playoffs. CMC put up 46, 30, 27, 25, and 29 points in his last five games, not counting Week 17, and Gurley was out for the last two games of the season.
Still, while McCaffrey may have won championships for people, Gurley single-handedly dragged people to the playoffs. In full point PPR (points per reception), he put up seven 30+ point games, dominating every other RB. So, while playoff performance is invaluable, Gurley still gets the nod with his historic season.
Winner: Todd Gurley
Breakout Player of the Year
During the draft, this is the player that everyone is trying to get. There's many interpretations of this honor, some would say that it's the player that returned the most value for where they went in the draft, others would describe it as the best performance by a player not considered a star in the pre-season. Either way, the winner of this is Patrick Mahomes. James Conner comes in as a close second, finishing as the number six RB despite missing three games, as he was mainly drafted as either a handcuff for Le'Veon Bell or just a two game flier while Bell was holding out. Both Conner and Mahomes were drafted very late, if drafted at all, in leagues, but Mahomes finished as the most dominant force in fantasy football. What separates him from everyone else is the fact that he finished 62 points ahead of the next closest fantasy QB, and put up the best QB season of all time. Forget fantasy, Mahomes is the favorite to win MVP as the second player ever to throw for 5,000 yards and 50 TDs. And he's only 23.
Winner: Patrick Mahomes
Bust of the Year
Fantasy football contains a very fickle cast of super stars, rotating every season. This season marked the end of LeSean McCoy's career of fantasy relevance. Sure Devonta Freeman, Dalvin Cook, Le'Veon Bell, Leonard Fournette and David Johnson all had disappointing years, but four of the five missed most of their games, and Johnson, while disappointing, still finished in the top ten RBs. McCoy, on the other hand, was a disaster. Despite being drafted in the RB 10-15 range, he ended up at RB 39, rushing for 514 yards and 3 TDs. He played only one game in which he produced any real value to a team, and continually disappointed those that were waiting for him to break out of his slump.
Winner(?): LeSean McCoy
Best Waiver Wire Pickup
To qualify for this one, a player must be available in most leagues after the draft. People like George Kittle and James White were likely taken in 10 or 12 team leagues, but absolutely no one saw this coming from the rookie Broncos running back Phillip Lindsay. Pre-season, he was behind both Royce Freeman and Devontae Booker in their depth chart, but started off strong in Week One and never took his foot off the pedal. With the exception of his last two mediocre games, Lindsay qualified as a strong RB2 for the season, and may have served as a game changer for those that took the chance on him early in the year.
Winner: Phillip Lindsay
Mr. Inconsistent
The most frustrating of all players is Mr. Inconsistent. One week he'll drop 38 points on your bench and when you start him next week he'll go for 2. This year, it was Amari Cooper (with Adrian Peterson and Kenyan Drake earning honorable mention). Cooper was the definition of a boom or bust on the Raiders, and while he certainly picked up his production after he was traded to the Cowboys, he still served to exasperate owners enough to earn this award. He had six games with over 13 points in full point PPR and six games with under 7 points. Just a complete toss up.
Winner: Amari Cooper