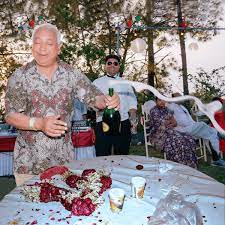 With new albums coming out each month, we sometimes forget to look back on music from the past few years. Looking back at past music, you can often find gems, such as the album I'm reviewing. Peter Cat Recording Co is a Delhi based band founded in 2009. The band consists of five members, Suryakant Sawhney, Karan Singh, Dhruv Bhola, Rohit Gupta and Kartik Sundareshan Pillai. According to their self description, they play all types of music from "from gypsy jazz to psychedelic cabaret; ballroom waltzes to epic space disco; bossa supernova to uneasy listening," as they said in their Spotify self-description. 
     Peter Cat Recording Co currently has two albums out, "Portrait of a Time: 2010-2016" and "Bismillah (2019)." Their most recent album has ten songs, each with fuzzy guitars, clear trumpets, and the soft crooning vocals of the main singer, Suryakant Sawhney. 
     The album opens with the first song, "Where the Money Flows," a spacy, vibey, song with soft vocals commenting on capitalism and demonetization, the disaster that occurred in India in 2016. Near the end of the song, we are teleported into an auto-tune, off-putting area, which I didn't like on my first few listens, but grew on me. The auto-tune adds to the uneasy listening, and makes you stop and listen to the song and words. As the song ends, and the next starts, we are transitioned into a guitar and drum beat accompanied by a simple trumpet melody. 
     "Floated By" is a love letter, either to himself, or to another, but is soft and groovy, carrying you, floating to the next song, "Soulless Friends." This song is a bit more upbeat, with another simple melody, with a piano, guitar, and drums backing Sawhney as he sings about welcoming his soulless friends, and comforting them that life is what it is. 
     As "Soulless Friends" ends, we are transported into the world of "Vishnu <3." With lyrics speaking on love and how it's a "freaky feeling," Sawhney creates an oasis of peace and calm in the album that is more of an calm, upbeat vibe. The song grows and falls, turning into their most popular song, "Memory Box." 
     The song starts off a bit off putting, with edited vocals repeating, but quickly turns very groovy, strings, jazzy, it is their number one song for a reason. It's a slightly different vibe, but still fits the bands overall feel. I would say it fits their Spotify description well, it has a funky vibe, but keeps the uneasy vibe. 
     "Freezing" is the next song and it's a completely different vibe than the previous song. The song starts woozy, very slow and downbeat. It quickly turns upbeat, as most songs do on this album, and carries you along with a constant piano note. This song is one of my favorites, with the song mostly focused on Sawhney's voice and lyrics, with the background supporting the melody that he is creating. 
     "Heera" is next, and at 6 minutes, 20 seconds, it is third longest. However, the time goes by fast as the song has a timeless quality, making you lose track of time. 
     "I'm This" is next, and it is another of my favorites. With the high notes of Sawhney and the almost bouncy, popping instrumental, this song is everything I wanted, and more. The ascending and descending synth-like sound in the background as Sawnhey goes in between falsetto and alto. 
     The next song is a change of pace, as trumpets come in almost immediately along with a guitar and drums. The song feels more like an instrumental song than a lyrics song, as the vocals are almost drowned out. The song has a sentimental feeling, with the lyrics speaking of parents and letting go. The last song on this album, "S**t I'm Dreaming," starts with a synth and Sawhney song-speaking on expectations, future plans, and what he dreams of. This song is the perfect ending to the album, as it feels resolute, a final thought, and matches the vibe of the rest of the album. At around 4:40, the song picks up, the lyrics stop, and drums, trumpet, and other brass instruments come in. It is chaotic and loud, but you can here the melody of the song, and the overall vibe of the album. 
     This album was fantastic. Peter Cat Recording Co has the vibe down, they know what they want to put out, and they have done it. There are no skips, no bad songs, and has beautiful lyrics and instrumentals. 10/10 would listen to it again.