Advanced Problems in Science Students Shine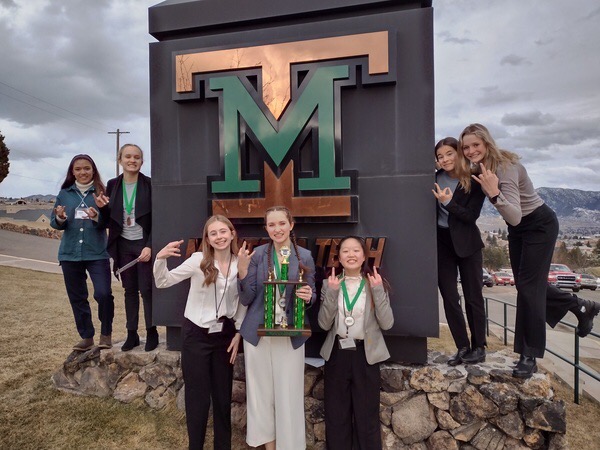 Innovation is underway in Room 290. There, under the supervision of second-year advisor Willow Affleck, seven brilliant young women tackle scientific research with the guidance of mentors from the community. 
These seven Hellgate students – 6 juniors and 1 sophomore – are wrapping up a year of in-depth investigation into a topic of their choice through the Advanced Problems in Science course. 
Advanced Problems in Science (colloquially referred to as APS) is the science research course at Hellgate. "With APS, you get to choose your own topic of study, and it's simply an idea that you're passionate about or something where you can get in a lab and actually do real work. And it just allows you to dive really deeply into one subject," said second-year APS student, Eden Maxwell. "You only focus on that one project for the whole year, and then you create a research paper and you get to compete in different science competitions, hopefully garnering a spot at national fairs." 
Maxwell's project is about developing a better baseline for returning to sport following a concussion. "I've gotten to choose a project that's really close to my heart with concussion research and I've been able to actually make lasting impacts on the field. And it's nice to see that work that I do as a high schooler can help the peers around me that I see struggling with these issues," said Maxwell. 
This year's projects span a wide range of subjects. Junior Camille Sherrill is studying structural color replication from parrot feathers, junior Elsa Westenfelder is looking at the effect of psychological perceptions on injuries, and junior Ashley Kim is investigating the effect of social isolation on social interaction. 
On a day to day basis, students are given class time to work on whatever they need. "There's very little structure to it. All the students that take this class are very motivated and mostly focused," said Affleck. "You get to choose what you need to focus on that day and do it instead of someone just giving you a lesson." 
"It's a really flexible class. It really depends on your schedule and your project. And Ms. Affleck is really good about being very open to moving dates around," said junior Mila McKay, whose project to create coated sutures with anti-inflammatory drugs was inspired by her passion for veterinary science.
Junior Natalya de la Plaza appreciates the flexibility. "It's not necessarily easy, but it's not like a traditional classroom setting or curriculum setting," she said. "You don't get punished for late work. I started my project like two months after everybody else because we just couldn't get stuff working and the right materials. But I'm still in the same place even though I started earlier." 
She's studying how exposure to high altitude conditions affects red blood cells in deer mice. "I think it's nice because it's almost purely passion driven. You get to work and I was lucky enough to find a project that, you know, at the beginning of the year, I didn't know anything about, but you become so invested in it and you go so deep into it that you can really find a love for it," said de la Plaza.
There is also a very collaborative feel to the class. Students work together to provide input, advice, guidance and assistance to one another. "The collaborative work in this class has been magnificent," said Affleck.
She's relieved this spirit is back, after her first year as the advisor for APS was nearly all online, distanced and divided by the alpha split. "There were very few people in the classroom. So there wasn't this collaborative feeling like we have this year, which feels really nice where everyone can check each other's work and they can talk about their ideas," she said. 
"This class has worked so hard, hundreds of hours of their own time, collecting data and writing and editing and making posters, but they've also made it really fun. The class is fun. Traveling is fun," Affleck added. 
"They've helped each other develop these skills of being able to write very clearly and straightforwardly. They've helped each other with editing. They've helped each other design their posters and do their presentations," she said. "This year has been awesome. Full class, everyone collaborates, we get to go to science fairs in person, meet students from around the country." 
APS has returned in full strength in the wake of the pandemic, with competitions completely in person. There's a lot more fun in presenting to a national audience when you get to travel to a big city, rather than hopping on a Zoom call.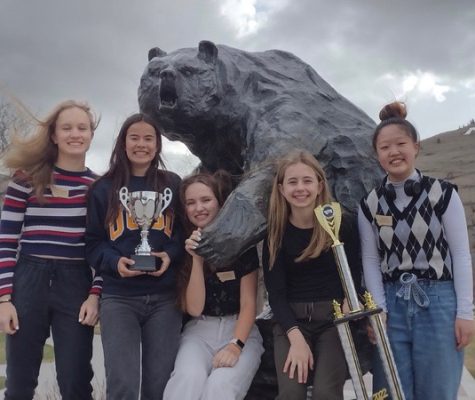 They started off the competition season by traveling to Butte in early March for the Regional Junior Science and Humanities Symposium. There, Maxwell and sophomore Quynh Mckelvey-Pham, with her project on whether or not crossbreeding affects the size of a uterus, competed. 
That same weekend, all seven students competed in the Montana Tech Regional Science and Engineering Fair, also in Butte. At Montana Tech RSEF, the class as a whole took home 1st place. 
The Montana State Competition was held at the University of Montana on March 28, 2022. There, the Hellgate APS class also placed 1st. Through these regional competitions, some students qualified for National and International Fairs. 
On April 20-23, Maxwell, McKelvey-Pham and Affleck traveled to Albuquerque, New Mexico, for the National Junior Science and Humanities Symposium, sponsored by the National Science Teaching Association and Department of Defense. As a top two finisher in regionals, Maxwell was selected to present orally to national judges. Additionally, in October 2022 Maxwell will go to the North American Brain Injuries Symposium in New York City with her mentor. 
Meanwhile, juniors Mila McKay and Natalya de la Plaza qualified for an international competition. In the middle of May, Affleck will accompany McKay and de la Plaza to Atlanta, Georgia for the International Science and Engineering Fair (ISEF). 
"There's great opportunities for travel and for meeting people from around the world," said Affleck. 
McKay and de la Plaza shared they both decided to try APS because they wanted to see if scientific research was something they'd like to pursue further, in college and beyond. 
"I'd say my favorite part of the class is getting to do higher level research that you're not allowed to do in really any other class anywhere else at Hellgate. I really like to do some hands-on application of what I've been learning. I've seen that some of the stuff that I've been learning in my classes like AP Bio can be applied to my project," said McKay. "You can do literally whatever you want in scientific research and you get to work with amazing professors on campus that facilitate your learning." 
Maxwell added that she feels like she has even more experience with scientific writing than her older sister in college. "The experiences you get from APS are unrivaled," she said. "It's a great way to do research at that next level or compete or publish potentially at that level without having all the responsibility. Because you're in high school. So like you're in this little bubble with your mentor, but you get to do these things that have real world applications," she said. "I didn't really think that it'd be as addicting as it is."