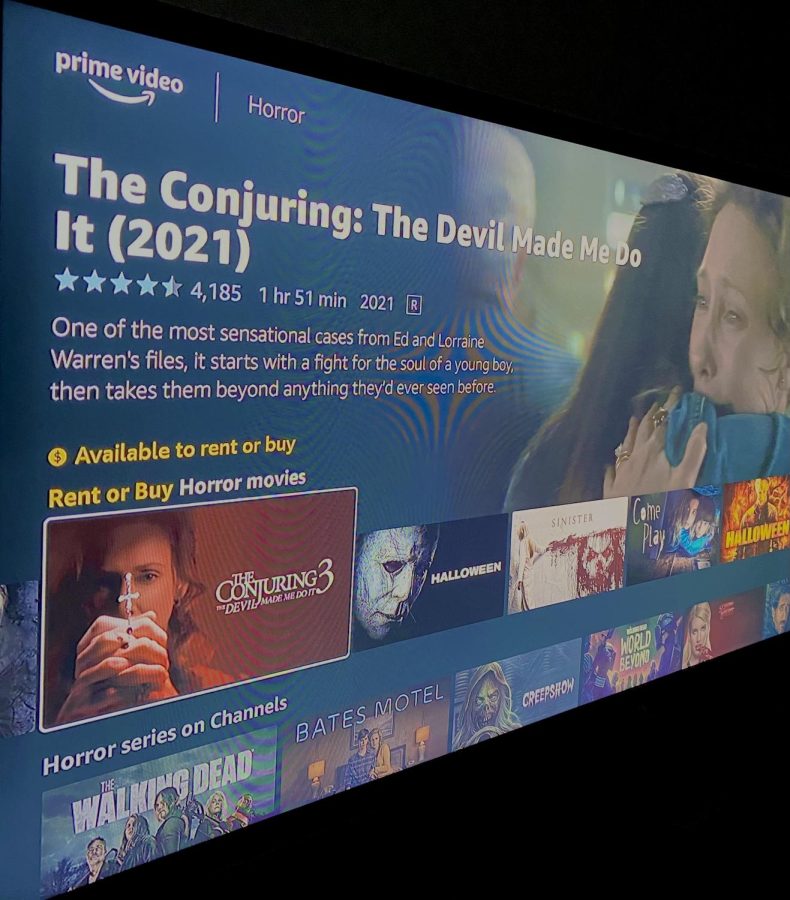 It is now the time of year where people will be obsessively binging their favorite horror movies. From new slashers and thrillers to the classics, here is a list of 5 horror movies from 2020 and 2021 to watch this October.
     #1 The Conjuring: The Devil Made Me Do It 
     If you've seen and enjoyed the first two "Conjuring" movies and the rest of the Conjuring universe, then you are sure to love this one too. Challenging the extremes of their previous experiences, Ed and Lorraine Warren are presented with a murder suspect claiming demonic possession. Unlike anything they have ever had to do before, they will do anything and everything to dominate the unholy spirit. 
     "This was a perfect way to continue the Conjuring series, and I would recommend it," said Reid Johnson.  "The Conjuring: The Devil Made Me Do It" is the perfect horror movie to watch this Halloween, along with the classics from the Conjuring Universe. "The Conjuring", "Annabelle", "The Conjuring 2", "Annabelle: Creation", "The Nun", "The Curse of La Llorona", "Annabelle Comes Home", and "The Conjuring: The Devil Made Me Do It", is the entire Conjuring universe and a spectacular series to watch.
     #2 Candyman (2021)
     This sequel to the original "Candyman (1992)" has just left theaters and is now available to rent. The locals from the Cabrini neighborhood in Chicago had been traumatized by the so-called "ghost story" about a killer with a hook for a hand that can be summoned if one were to say his name, Candyman, in the mirror five times. A decade after the Neighborhood's towers had been demolished, Anthony McCoy and partner Brianna Catwright decided to explore into the depths of the story, only to discover it could be their death wish. 
     Both versions of the movie are fantastic, but many people seem to enjoy the sequel more. "The new "Candyman" was a better horror movie than the original both the plot and the filming techniques" said Sarah Richter. You can rent this movie on many platforms, including Amazon Prime, Apple TV, Youtube, and more.
     #3 Don't Breathe 2
     Whether "Don't Breathe or Don't Breathe 2" is better, is still being heavily debated. Both are excellent thrillers, filled with suspense and terror worth watching. The blind veteran, Norman Nordstrom, has been taking care of an orphan girl in a concealed cabin. Their isolation is disturbed when a group of kidnappers arrive to abduct the girl. The older man must give in to his inner darkness and devise more cunning and devilish ways than he has ever pursued to save her.
     "This is one of my favorite horror movies, and I would recommend it to anyone," said Nicolette Turck. It was the perfect way to continue onto the first one and had their fans already waiting for the next. Both "Don't Breathe 1 and 2" are fantastic films, ideal to watch this Halloween.
     #4 My Heart Can't Beat Unless You Tell It To
     This movie got a 98% rating on the fresh tomato scale. Critics call it "Unsettling and compelling in equal measure, "My Heart Can't Beat Unless You Tell It To" cast a visually striking and thought-provoking spell.Thomas cannot live without human blood. His brother, Dwight, wanders at night, searching for people that he can kill and take their blood to let him feed off of. It's not that Dwight enjoys the crime, but his brother and sister are his only family. As much as he wants to live an entirely different life, Dwight must continue the lethal practice to keep his family's secret.
     Being one of the top-rated horror movies in 2021, it isn't about to disappoint. "Although it wasn't the scariest horror movie I've seen, it was really good, and I would recommend it," said Justin Kloote. The amount of excellent reviews this movie has accumulated since being released in 2020 is astonishing. "My Heart Can't Beat Unless You Tell It To" is a must-watch horror movie this month.
     #5 The Boy Behind The Door
     This 2020 horror film isn't one to miss. Best friends Bobby and Kevin are greeted with a moment every kid is terrified of when they get kidnapped on their way home from school. After escaping, Bobby has to keep away from his kidnapper as he roams the dingy halls of the house. When an unusual person arrives at the captivator's home, Kevin's end day seems to get closer and closer. With no plans to get external help, Bobby decides to save Kevin by himself, putting his own life on the line.
    This movie is #3 on the "Top Horror Movies to Watch in 2021 list" that the Rotten Tomato Editorialists created. The critic reviews are fantastic, with a 97% on the fresh tomato scale. "Out of all the horror movies I've seen, this is one of my favorites," said Olivia Sorensen. "The Boy Behind The Door" is a top-rated horror movie that any horror fanatic would be crazy not to watch.