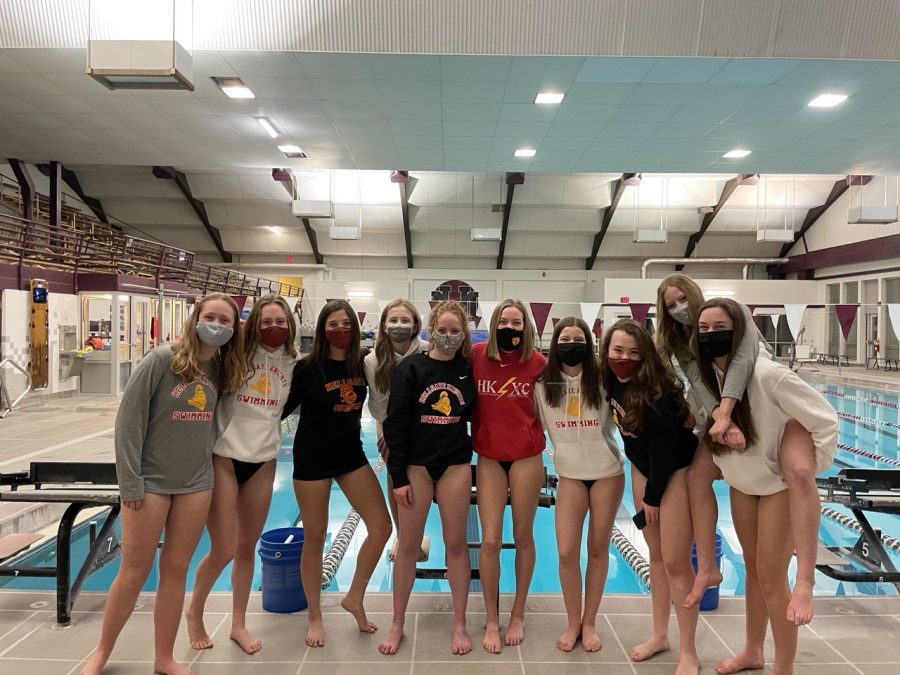 Everything about high school swimming was turned on its head this year with some major changes. 
The season began in Jan. 2021, rather than the typical mid-November start. Missoula Swimming uses University of Montana facilities for practices, and a lifeguard shortage delayed the start of the season for two months. Additionally, in late fall, the 2019-2020 season's head coach Morgan Zimmer announced that she would not be returning for the 2021 season. Assistant Coach Brady Baughman was quickly promoted to Interim Head Coach. 
Missoula Swimming includes five high schools: Hellgate, Sentinel, Big Sky, Loyola and Frenchtown. In a standard year, the teams practice, travel together, and share coaches and facilities. They just compete separately. However, to prevent mixing between swimmers from different schools, this season the teams were divided. Practices shifted from 90 minutes to 60 minutes; rather than 5:30 a.m. practices, schools now had rotating 7:00-8:00 p.m. or 8:00-9:00 p.m. practices, or 6:00-7:00 a.m. dryland gym sessions. 
Sophomore Lauren Riley elaborated, "This season was cut short, and it's been really hard to get pool time with the extensive protocols. We have super strange practice times which have been hard to adjust to for me, but other than that I think we've really come together this year to create an awesome team atmosphere… We can have a lot of fun with each other." 
Riley points out a common refrain among this year's swimmers. The team culture has grown, in spite of all the changes. If anything, the changes helped foster a closer team by reducing Hellgate's numbers to 19 total swimmers – 10 girls and 9 boys. 
There are many reasons why the team has continued to shrink over the past couple years, but the effects of the pandemic worsened the trend. "I think that [COVID-19] has had a major impact, but I would also say that the practice times have deterred some and a lack of support and funding has definitely had an impact on the program," said Riley. 
With such a small team, it is easier to build new friendships. First-year swimmer and freshman Michael Schermerhorn said, "My experience this year has actually been great, the best part has been swimming and meeting all the new people." 
Swimming isn't quite as fun without the friendships. It's one of the things that endeared super athlete Kensey May to the sport. After moving to Montana from Virginia last year, this was also her first year on Hellgate's swim team. As a junior, she was the only new swimmer who was not a freshman. 
"I love the Hellgate swim team. A lot of the girls have invited me to lunch, let me know when important dates were happening and they've been super helpful," said May. 
She felt welcomed to the team, and grateful that she had the chance to participate in her "fun" sport. "My favorite part about swimming is how it's an individual sport but a team sport at the same time," she said. May is primarily a cross country and track athlete, so swimming gives her an opportunity to train in a different way, though still with a similar format of individual and team results. 
Individual results took on increased importance this season. Missoula Swimming competed in four regular season meets in a virtual format, with the state meet as the only full in-person meet of the season. For virtual meets, teams had six days to have their swimmers swim their events and record their times in a digital spreadsheet. These times were verified with multiple stopwatches and video footage. While important for safety, the changes made it harder to get into the headspace needed to swim at your best.
Without competing against many swimmers seeded by time, it was rare to swim in a heat with someone at the same pace. Without ever seeing the other teams from across the state, you had to visualize the competition. Rather than a real race, these became mental races against oneself. 
The other complication came from time restraints. With only two hours to warm up and  swim all 22 events, there was little time to rest. When swimmers weren't swimming, they were counting or timing for the swimmers who were. 
But Riley believes Hellgate made it work. "I think that we've definitely made the best of this season. We have… had some super strong swims overall. I'm really looking forward to state and hope that we all do well," she said.
Missoula Swimming stayed strong throughout the changes, and Hellgate's team only grew closer. The swimmers who qualified for this year's state meet traveled to Great Falls for the competition on March 5.
The 2021 AA MHSA State Swim Meet was smaller than usual, with reduced swimmer eligibility due to COVID-19 prevention protocols. Only finals were swam this year, as the prelims were scratched to make the meet a single day event. 
Three Hellgate swimmers placed at state. Senior Avery Maxwell placed fourth in the girl's 200 yard freestyle with a time of 1:59.31, and sixth in the girl's 100 yard butterfly with a time of 1:01.49. Junior Kihla Lax placed fifth in the girl's 500 yard freestyle with a time of 5:42.01. Sophomore Sean Murphree placed second in the boy's 100 yard breaststroke with a time of 1:03.11, and fifth in the boy's 200 yard IM with a time of 2:09.17. 
Two Hellgate relays also placed. The boy's 200 yard medley relay came in fifth with a time of 1:49.96. The girl's 200 yard freestyle relay came in third with a time of 1:45.09. 
On the girl's side, Bozeman High came in first for the second year in a row, finishing with almost 100 more points than Great Falls CMR in second. Hellgate's girl's team placed sixth with a total of 95 points. For the boy's, Helena High placed first with 234 points. Hellgate's boy's team came in seventh with 74 points.